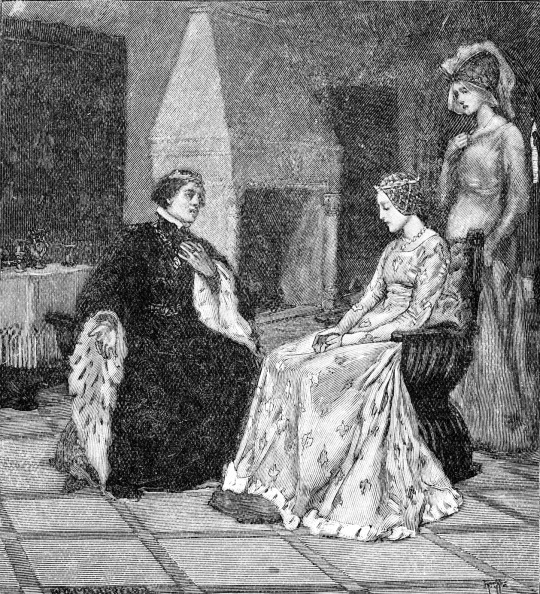 Henry V, a play very much filled with bloodshed and tension, ends on a surprisingly charming note. But it doesn't have to.
Hal asks to be left alone with Katherine, the Dauphin's sister and Princess of France. Alice, Katherine's attendant, also stays behind with them.
KING HENRY
Fair Katherine, and most fair,
Will you vouchsafe to teach a soldier terms
Such as will enter a lady's ear
And plead his love suit to her gentle heart?
Let us make one thing clear: Katherine is going to marry Hal whether she likes it or not. She is a crucial component of the Treaty of Troyes. So, when it really comes down to it, Hal doesn't have to do this. He doesn't have to try to woo her.
But he does anyway.
KATHERINE
Your majesty shall mock at me. I cannot speak your England.

KING HENRY
O fair Katherine, if you will love me soundly with your French heart, I will be glad to hear you confess it brokenly with your English tongue. Do you like me, Kate?

KATHERINE
Pardonnez-moi, I cannot tell what is "like me."

KING HENRY
An angel is like you, Kate, and you are like an angel.

KATHERINE
Que dit-il? Que je suis semblable à les anges?

ALICE
Oui, vraiment, sauf vostre grace, ainsi dit-il.

KING HENRY
I said so, dear Katherine, and I must not blush to affirm it.

KATHERINE
O bon Dieu! les langues des hommes sont pleine de tromperies.

KING HENRY
What says she, fair one? that the tongues of men are full of deceits?

ALICE
Oui, dat de tongues of de mans is be full of deceits. Dat is de princesse.
That is the princess indeed! Katherine is not swept away by Hal's eager attempts at wooing. We only see Katherine twice in this play – once when she asks Alice to teach her to speak English, and once when she has to suffer through Hal's laughable (yet sweet) proposal. I love her despite this – she shines in both scenes, and the personality traits we actually do get to see are amazing.
We have established by now that this scene does not have to happen. And yet, Hal continues to woo Katherine, and makes a right fool of himself in the process. Why is he doing this?
Well, because he is who he is. I know that isn't a good answer, but it's the best answer I can come up with. Hal, who is always seeking validation (probably because he got very little of it from his father), would much rather Katherine like him even if she is being forced to marry him. And despite all of his flaws, Hal is good. He is good, and kind, and this is his opportunity to show Katherine that she isn't marrying a monster.
KING HENRY
Marry, if you would put me to verses or to dance for your sake, Kate, why, you undid me. For the one I have neither words nor measure; and for the other I have no measure in strength. If I could win a lady at leapfrog, or by vaulting into my saddle with my armor on my back, under the correction of bragging be it spoken, I should quickly leap into a wife. Or if I might buffet for my love, or bound my horse for her favors, I could lay on like a butcher and sit like a jackanapes, never off. But, before God, Kate, I cannot look greenly, not gasp out my eloquence, nor I have no cunning in protestation, only downright oaths which I never use till urged, nor even break for urging. If thou canst love a fellow of this temper, Kate, whose face is not worth sunburning, that never looks in his glass for love of anything he sees there, let thine eye be thy cook. I speak to thee plain soldier. If thou canst love me for this, take me; if not, to say to thee that I shall die, is true; but for thy love, by the Lord, no; yet I love thee too. And while thou liv'st, dear Kate, take a fellow of plain and uncoined constancy, for he perforce must do thee right, because he hath not the gift to woo in other places. For these fellows of infinite tongue that can rhyme themselves into ladies' favors, they do always reason themselves out again. What! A speaker is but a prater; a rhyme is but a ballad. A good leg will fall, a straight back will stoop, a black beard will turn white, a curled pate will grow bald, a fair face will wither, a full eye will wax hollow; but a good heart, Kate, is the sun and the moon; or rather, the sun, and not the moon, for it shines bright and never changes, but keeps his course truly. If thou would have such a one, take me; and take me, take a soldier; take a soldier, take a king. And what say'st thou then to my love? Speak, my fair, and fairly, I pray thee.
Hal is always prone to rambling, but you really feel it in this scene. But you don't mind because he is being so humble. And honest – I think if this scene shows us anything, it's Hal's true personality. But where is the playful and mischievous streak that I keep claiming he hasn't lost? Be patient, it'll show.
KATHERINE
Is it possible dat I should love de ennemie of France?

KING HENRY
No, it is not possible you should love the enemy of France, Kate; but in loving me you should love the friend of France, for I love France so well that I will not part with a village of it – I will have it all mine. And, Kate, when France is mine and I am yours, then yours is France and you are mine.
Won't part with a village of it, he says. A silly line that always has me rolling my eyes. Katherine, however, doesn't understand what he's getting at.
KATHERINE
I cannot tell wat is dat.

KING HENRY
No, Kate? I will tell thee in French, which I am sure will hang upon my tongue like a new-married wife about her husband's neck, hardly to be shook off. Je quand sur le possession de France, et quand vous avez possession de moi (let me see, what then? Saint Denis be my speed!), donc vostre est France et vous estes mienne. It is easy for me, Kate, to conquer the kingdom as to speak so much more French. I shall never move thee in French, unless it be to laugh at me.
No matter how you feel about Hal as a character, this exchange softens your heart. Every production of Henry V I've seen has had Hal trip over the French he tries to speak – and it's so charming and so earnest that you can't help but feel a bit in love with him yourself. I love the last line, "I shall never move thee in French, unless it be to laugh at me," because he always says it so good-naturedly. Every time Katherine laughs, he laughs or smiles along with her, even if she is laughing at his awful French.
When Hal asks again if Katherine can love him, this happens:
KATHERINE
I cannot tell.

KING HENRY
Can any of your neighbors tell, Kate? I'll ask them. Come, I know thou lovest me; and at night when you come into your closet, you'll question this gentlewoman about me, and I know, Kate, you will to her dispraise those parts in me that you love with your heart; but, good Kate, mock me mercifully, the rather, gentle princess, because I love thee cruelly.
He continues for a few lines after this – actually, he gets carried away for a minute, thinking about the kind of children he and Katherine will have. But that isn't important. What's important is the playful nature this exchange has taken on. See? I told you he never fully got rid of that streak. It moves from playful to sweet, of course, because he is still trying to woo her.
Before Katherine finally agrees to the marriage, Hal calls her "la plus belle Katherine du monde, mon trèscher et devin déesse." It is not an important line to pick out, but I'll do so anyway because it always makes me smile. I can hear him tripping over his words, trying so hard to charm her – and if the production has Katherine laugh every time he speaks French, all the better. At this point, she is always charmed. And, truth be told, so am I.
Now, back to the proposal that Katherine has just agreed to.
KING HENRY
Upon that, I kiss your hand and I call you my queen.

KATHERINE
Laissez, mon seigneur, laissez, laissez! Ma foi, je ne veux point que vous abaissiez vostre grandeur en baisant le main d'une de vostre seigneurie indigne serviteur. Excusez-moi, je vous supplie, mon très-puissant seigneur.

KING HENRY
Then I will kiss your lips, Kate.
Ah, mischief! There it is. Katherine has just told him that she does not wish him to lower his dignity by kissing the hand of someone lower in rank than he is. So Hal, being the fundamentally mischievous person he is, says that he'll kiss her lips instead.
How could anybody think that he'd changed completely? Hal says things like this because of who he was – not because of who he has become in this play. Despite everything, he still has a bit of rascal left in him.
KATHERINE
Les dames et demoiselles pour estre baisée devant leur nopces, il n'est pas la coutume de France.

KING HENRY
Madam my interpreter, what says she?

ALICE
Dat it is not be fashon pour le ladies of France – I cannot tell what is "baiser" en Anglish.

KING HENRY
To kiss.

ALICE
Your majestee entendre bettre que moi.

KING HENRY
It is not a fashion for the maids in France to kiss before they are married, would she say?

ALICE
Oui, vraiment.

KING HENRY
O, Kate, nice customs curtsy to great kings. Dear Kate, you and I cannot be confined within the weak list of a country's fashion. We are the makers of manners, Kate; and the liberty that follows our places stops the mouth of all findfaults, as I will do yours for upholding the nice fashion of your country in denying me a kiss. Therefore patiently, and yielding. [Kisses her.]
Such puckish behavior for a king. Anybody who sees Henry as an all-serious Christian king is doing him a disservice. In this awkward scene alone, we can see so many facets of his personality. It reminds us of his age, who he was, and who he is now.
KING HENRY
You have witchcraft in your lips, Kate. There is more eloquence in a sugar touch of them than in the tongues of the French Council, and they should sooner persuade Harry of England than a general petition of monarchs. Here comes your father.
The delivery of "here comes your father," is always so entertaining to me – Hal always moves away from Katherine posthaste. He sometimes rushes back to retrieve his crown, having taken it off while he was speaking to Katherine. He straightens his doublet, and keeps a respectable distance from the princess.
And, if you've been following my interpretation of Hal's character, this is exactly the kind of behavior we should expect from him. In front of the other nobles, he transforms into King Henry. Katherine, luckily, was speaking to Hal.
Hal does indeed change between Henry IV and Henry V. He does become more mature. But that doesn't mean that he has to lose everything about who he was. Circumstances change him, that much is true, but underneath all those kingly qualities, Hal is still mostly just Hal. He is older, wiser, but still playful and prone to making trouble.
It's no wonder that Katherine can't help but fall in love.